Boon Edam Partners with BIMsmith to Provide BIM Content for Security Entrance Systems
Boon Edam Partners with BIMsmith to Provide BIM Content for Security Entrance Systems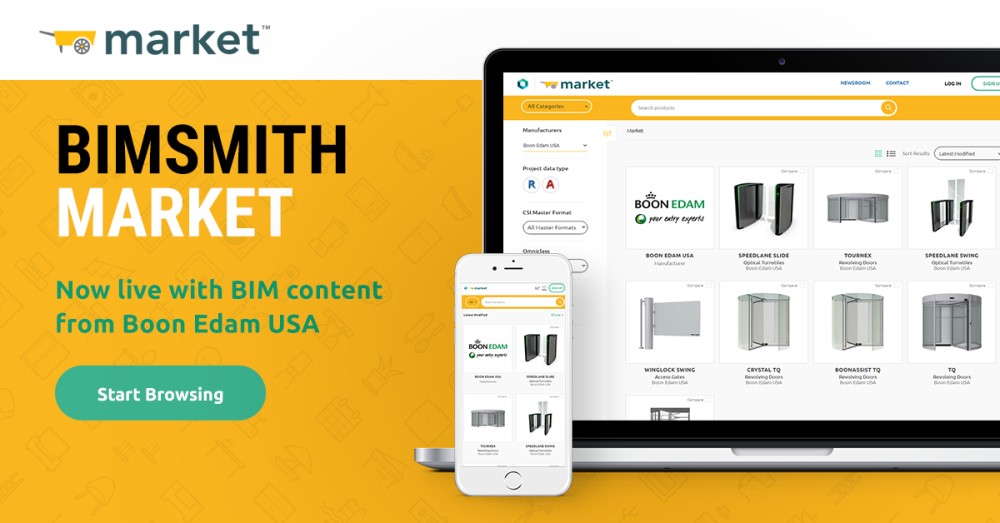 (January 10, 2018) – Elgin, IL - Boon Edam, a global leader in security entrances and architectural revolving doors, today announced the availability of Building Information Modeling (BIM) content for its products through an exciting partnership with BIMsmith, an industry leading building product data platform with a suite of free cloud tools for architects and designers.
By offering expertly crafted BIM content that integrates seamlessly with leading design program Autodesk Revit, Boon Edam closes an important efficiency gap for architects and designers, allowing them to insert robust digital models of Boon Edam products into their designs quickly and easily.
Through a partnership with the building industry experts at BIMsmith, Boon Edam's leading entry and secure barrier solutions can now be found by architects on BIMsmith Market, a comprehensive cloud library of product data including BIM files, specifications, AutoCAD files, and data sheets from building product manufacturers. With these files now easily accessible, architects and designers can integrate Boon Edam products into their projects without costly interruptions in their workflow.
"As experts in optimizing the flow of people through spaces, we at Boon Edam place a very high value on efficiency," said Tracie Thomas, Marketing Manager at Boon Edam, USA. "Providing architects and specifiers with tools to make their workflow more efficient will therefore always be of the highest priority to us."
"The name Boon Edam brings with it a long history of engineering and design excellence," said Benjamin Glunz, CEO of BIMsmith. "We are thrilled that thousands of building industry pros can now access Boon Edam's products through our tools."
Browse and download Boon Edam's products for free on BIMsmith Market at https://market.bimsmith.com/boonedam, or learn more about BIM content creation with BIMsmith.

About Boon Edam
With work environments becoming increasingly global and dynamic, the smart, safe entry has become the center of activity in and around many buildings. Royal Boon Edam is a global market leader in reliable entry solutions. Headquartered in the Netherlands, with 140 years of experience in engineering quality, we have gained extensive expertise in managing the transit of people through office buildings, airports, healthcare facilities, hotels and many other types of buildings. We are focused on providing an optimal, sustainable experience for our clients and their clients. By working together with you, our client, we help determine the exact requirements for the entry point in and around your building. Follow Boon Edam Inc. on Facebook, Twitter, LinkedIn and our blog and read the latest news at http://www.boonedam.us/news.

About BIMsmith
BIMsmith®, the leading cloud-based building product discovery and selection platform, cultivates global business-to-business relationships between building industry professionals and building product manufacturers. Through direct integration of real product data into the BIM workflow, BIMsmith continues to shape the future of building science technology, placing its clients at the forefront of BIM innovation while addressing the true needs of industry professionals. Learn more about BIMsmith at https://www.bimsmith.com.