AZEK Building Products and BIMsmith Partner Together to Bring TimberTech & AZEK Exteriors Brands to Revit
AZEK Building Products and BIMsmith Partner Together to Bring TimberTech & AZEK Exteriors Brands to Revit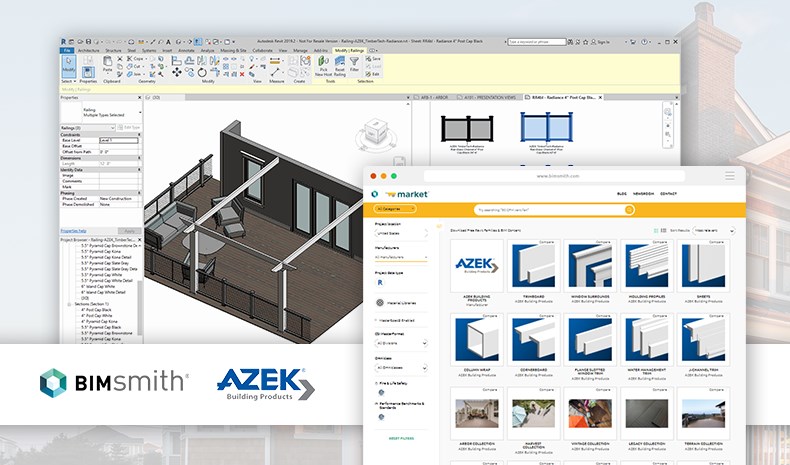 Chicago, IL (9 September 2019) - AZEK Building Products, a market-leading manufacturer of home building materials, has partnered with BIMsmith, the leading digital product research and selection platform, to provide Building Information Modeling (BIM) content for both TimberTech® and AZEK Exteriors® brands to building professionals around the world.
The partnership involves the creation of data-rich digital models (BIM content) for products from both AZEK Exteriors and TimberTech product lines. Each BIM-ready digital model contains embedded information about product availability, performance, and sustainability, providing building professionals with valuable data-driven insights throughout the digital design process. Every model created through the partnership integrates seamlessly with the market-leading architectural design software, Autodesk Revit.
The partnership also places both brands' entire BIM libraries on BIMsmith Market, the leading destination for building professionals around the world to perform product research and download BIM content.
"AZEK Building Products has long been focused on creating premium, well-designed building materials to support the needs of architects and designers," said Nam Ong, VP of Product Management at AZEK Building Products. "We are eager to take that level of service for the architectural community to the next level by providing powerful BIM tools that make the design workflow easier than ever."
"When it comes to premium, durable home building materials, AZEK® is the go-to source," said Benjamin Glunz, CEO of BIMsmith. "We're thrilled to welcome them to the BIMsmith platform."
Learn more about AZEK Building Products at www.azek.com, or view the new AZEK Building Products BIM Library at www.bimsmith.com/azek.
About AZEK Building Products
AZEK Building Products manufactures home building materials under two divisions: TimberTech® and AZEK Exteriors®. TimberTech offers a premium portfolio of capped polymer and capped composite decking – as well as railing, porch, lighting and paver products – while AZEK Exteriors manufactures distinctly unique trim and moulding. Together the brands present homeowners, builders, architects, dealers and contractors with a comprehensive suite of first-rate products that are long lasting, sustainable alternatives to wood. AZEK is headquartered in Chicago, IL (with plants in OH and PA) and also owns Minneapolis-based Ultralox railing systems.
About BIMsmith
BIMsmith®, the leading cloud-based building product discovery and selection platform, cultivates global business-to-business relationships between building industry professionals and building product manufacturers. Through direct integration of real product data into the BIM workflow, BIMsmith continues to shape the future of building science technology, placing its clients at the forefront of BIM innovation while addressing the true needs of industry professionals. Learn more about BIMsmith at www.bimsmith.com.