Bosun Partners with BIMsmith to Launch New BIM Tools for Architects and Designers
Bosun Partners with BIMsmith to Launch New BIM Tools for Architects and Designers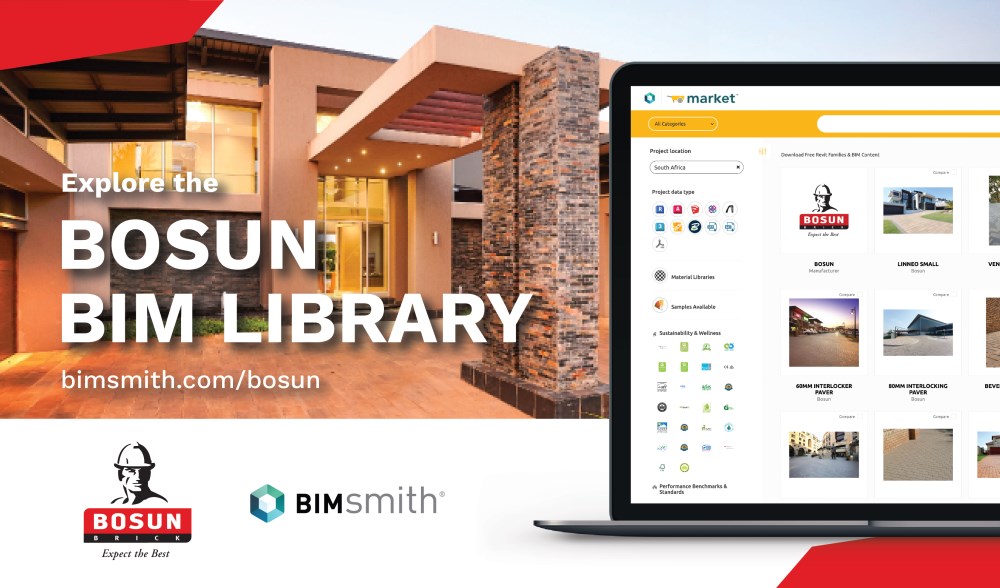 Midrand, South Africa (23 January 2023) – Bosun, a leading manufacturer and supplier of paving bricks, kerbs, and retaining wall blocks in South Africa, has announced a partnership with BIMsmith, the leading product research platform for building professionals, for the development of new Building Information Modeling (BIM) tools for architects, engineers, and other construction professionals.
The partnership involves the creation of data-rich digital models of Bosun products that integrate seamlessly with BIM design software used by building professionals globally. Each product model contains key data representing both geometric and performance capabilities of each product, allowing for highly accurate early-stage design. The digital models are designed to integrate natively with Autodesk Revit, the leading architectural design software worldwide.
The partnership also places Bosun products in front of a global audience of building design professionals on BIMsmith Market, the leading cloud platform used by architects and engineers to conduct building product research.
"We are committed to providing our customers with value-added concrete products and solutions," said Warren Hadley, Brand Manager at Bosun. "Our partnership with BIMsmith will further support architects and other building professionals, and we couldn't be more excited."
"Bosun provides architects and other building professionals with a wide range of product and expertise," said Benjamin Glunz, CEO at BIMsmith. "We are excited to add Bosun to the BIMsmith platform and allow architects to creatively use Bosun products in their projects."
Learn more about Bosun and view the new Bosun BIM Library at bimsmith.com/bosun.
About Bosun
Bosun is a leading manufacturer and supplier of paving bricks, kerbs, and retaining wall blocks in South Africa. Bosun – "Expect the Best", is more than a tagline, it is the reason we exist. Our wide range of concrete products and pavers are suited for residential, commercial, and industrial applications. https://www.bosun.co.za/

About BIMsmith
BIMsmith®, the leading cloud-based building product discovery and selection platform, cultivates global business-to-business relationships between building industry professionals and building product manufacturers. Through direct integration of real product data into the BIM workflow, BIMsmith continues to shape the future of building science technology, placing its clients at the forefront of BIM innovation while addressing the true needs of industry professionals. Learn more about BIMsmith at www.bimsmith.com.