Knotwood Partners with BIMsmith to Provide New Suite of BIM Tools for Architects
Knotwood Partners with BIMsmith to Provide New Suite of BIM Tools for Architects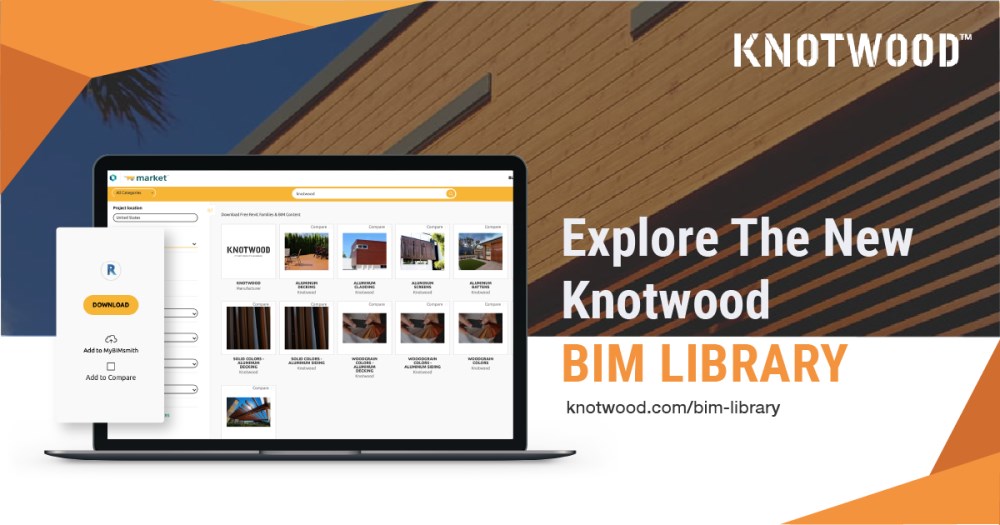 PEACHTREE CORNERS, GA (May 19, 2020) – Knotwood, manufacturer of leading woodlike aluminum architectural systems, has announced a partnership with BIMsmith, the leading building product research platform, to provide a new suite of Building Information Modeling (BIM) tools for building professionals.
The partnership involves the development of digital BIM assets for Knotwood products. As information-rich, photorealistic 3D representations, these assets can be used in architectural design software and make it easy for architects to incorporate Knotwood finishes into their designs and eventually their projects. All of Knotwood's BIM resources are built to integrate with Autodesk Revit, the leading architectural design software.
As a result of the partnership, Knotwood's BIM content is also now available globally through BIMsmith Market, the leading product research platform for architects to discover new products and download BIM assets for their projects. It also is available on BIMsmith Forge, a powerful cloud application that enables architects to configure multi-layer walls, floors, ceilings, and roofs for their BIM projects.
"Knotwood products have always been a hit with the architectural community, combining aesthetics and durability," said Sarah O'Neal, Product Marketing Manager at Omnimax International. "We're thrilled to provide these BIM resources that will further equip architects to creatively integrate Knotwood products into their projects."
"Knotwood provides building professionals with the opportunity to flex their design creativity with a reliable and versatile product," said Benjamin Glunz, CEO of BIMsmith. "We're excited to welcome them to the BIMsmith platform."
View the Knotwood BIM Library at www.bimsmith.com/knotwood.
About Knotwood
Knotwood is proud to be the market leaders, utilizing the most advanced woodgrain finishing machine in the world, and is now a part of OmniMax International, Inc. in North America. Incorporating the strength of manufacturing, customer support and distribution with the innovative products and manufacturing techniques of Knotwood brings great solutions for customers and opportunities for local dealer's businesses. Knotwood offers unique hidden fastener systems for aluminum cladding, battens, fencing, decking, privacy screens, shutters and railing and balustrades. Knotwood does not require welding which means it is quick and easy to install. All products available in Knotwood's woodgrain aluminum finishes or any powder coat color. By using Knotwood wood-look aluminum, you can have the beauty and warmth of wood without the time-consuming maintenance and expense. The process is called sublimation and has been tested for durability throughout the world.
About BIMsmith®
BIMsmith®, the leading cloud-based building product discovery and selection platform, cultivates global business-to-business relationships between building industry professionals and building product manufacturers. Through direct integration of real product data into the BIM workflow, BIMsmith continues to shape the future of building science technology, placing its clients at the forefront of BIM innovation while addressing the true needs of industry professionals. Learn more about BIMsmith at www.bimsmith.com.