Norbec Partners with BIMsmith to Launch New BIM Tools for Architects and Designers
Norbec Partners with BIMsmith to Launch New BIM Tools for Architects and Designers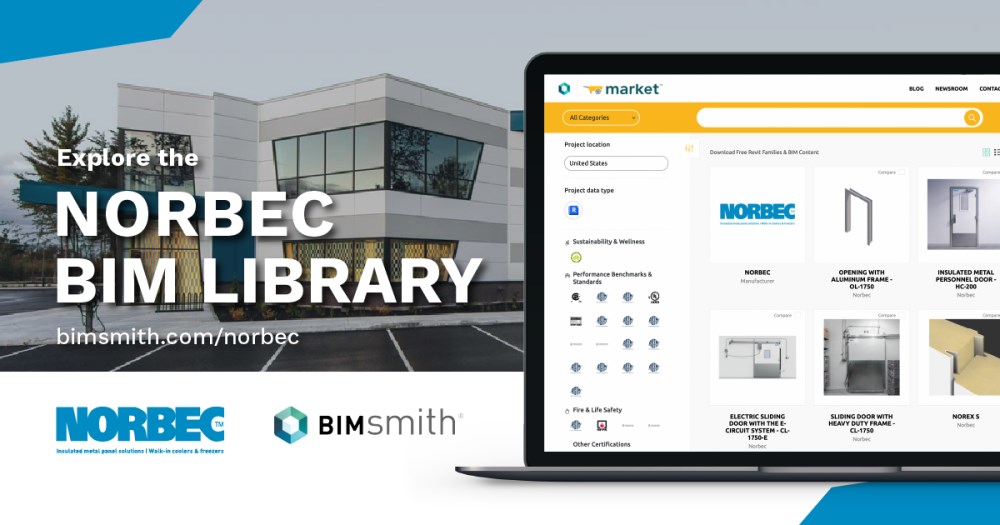 Boucherville, Quebec, Canada (20 September 2022) – Norbec, a North American manufacturer of prefabricated walk-in coolers, freezers, doors, and insulated metal panels, has announced a partnership with BIMsmith, the leading product research platform for building professionals, for the development of new Building Information Modeling (BIM) tools for architects, engineers, and other construction professionals.
The partnership involves the creation of data-rich digital models of Norbec products that integrate seamlessly with BIM design software used by building professionals globally. Each product model contains key data representing both geometric and performance capabilities of each product, allowing for highly accurate early-stage design. The digital models are designed to integrate natively with Autodesk Revit, the leading architectural design software worldwide.
The partnership also places Norbec products in front of a global audience of building design professionals on BIMsmith Market, the leading cloud platform used by architects and engineers to conduct building product research.
"For more than 40 years, Norbec has been providing our customers with innovative solutions that help them achieve their design goals," said Laurence Roy, Marketing Manager at Norbec. "Our partnership with BIMsmith is another way for us to continue to support building professionals in every step of their journey."
"Finding materials that are both resilient and energy-efficient is essential in the practice of architecture and design," said Benjamin Glunz, CEO at BIMsmith. "Norbec provides that and more with tailor-made solutions that are able to meet the needs of projects around the world."
Learn more about Norbec and view the new Norbec BIM Library at www.bimsmith.com/norbec.
About Norbec
Norbec is a North American leader in manufacturing both prefabricated walk-in coolers & freezers and doors, as well as architectural insulated metal panels for building envelope. Regardless of the size and scope of your project, Norbec is proud to respect the environment and put stronger emphasis on human health by using recyclable and sustainable building materials. www.Norbec.com.
About BIMsmith
BIMsmith®, the leading cloud-based building product discovery and selection platform, cultivates global business-to-business relationships between building industry professionals and building product manufacturers. Through direct integration of real product data into the BIM workflow, BIMsmith continues to shape the future of building science technology, placing its clients at the forefront of BIM innovation while addressing the true needs of industry professionals. Learn more about BIMsmith at www.bimsmith.com.