BIMsmith Launches Global Holiday Revit Family Competition
BIMsmith Launches Global Holiday Revit Family Competition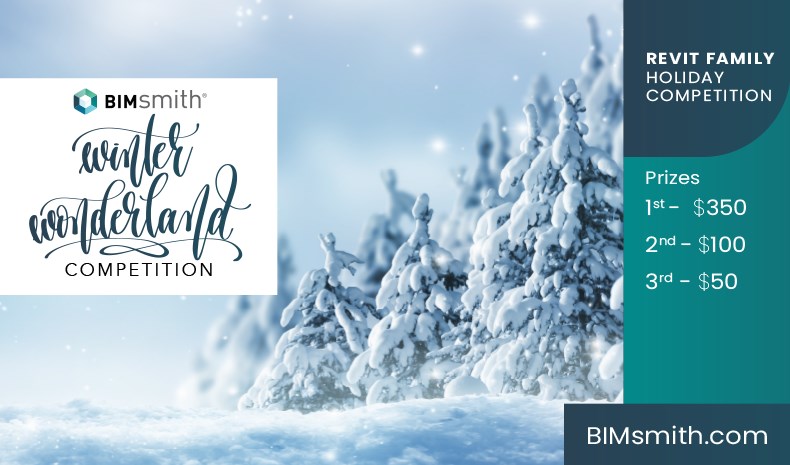 Chicago, IL (December 4, 2020) – BIMsmith, the leading platform for building product research and selection, today announced the launch of a new holiday-themed Revit family competition.
The competition, named BIMsmith Winter Wonderland, offers $500 in prizes to the most creative and well-built Revit families that follow a holiday or winter theme. Finalists will be selected by the BIMsmith Team of architects and Revit experts. The top 10 finalists will be offered an opportunity to have their entries posted for the global Revit community to download on BIMsmith Market, and the top three finalists will be awarded $350, $100, and $50 Amazon gift cards.
The competition coincides with the popular holiday rendering competition traditionally operated by rendering software company Enscape. Users are encouraged to enter both competitions and potentially use the Revit families created for BIMsmith Winter Wonderland in renderings submitted to Enscape's competition.
Submissions are required to be original and must be entered via social media by tagging @theBIMsmith on Twitter, Facebook, LinkedIn, or Instagram and using the hashtag #BIMsmithWinterWonderland. Submissions are due no later than December 22nd, 2020.
Learn more about official rules and submit entries for BIMsmith Winter Wonderland on the BIMsmith Blog.
About BIMsmith
BIMsmith®, the leading cloud-based building product discovery and selection platform, cultivates global business-to-business relationships between building industry professionals and building product manufacturers. Through direct integration of real product data into the BIM workflow, BIMsmith continues to shape the future of building science technology, placing its clients at the forefront of BIM innovation while addressing the true needs of industry professionals. Learn more about BIMsmith at www.bimsmith.com.