ProWood Partners with BIMsmith to Launch New BIM Tools for Architects and Designers
ProWood Partners with BIMsmith to Launch New BIM Tools for Architects and Designers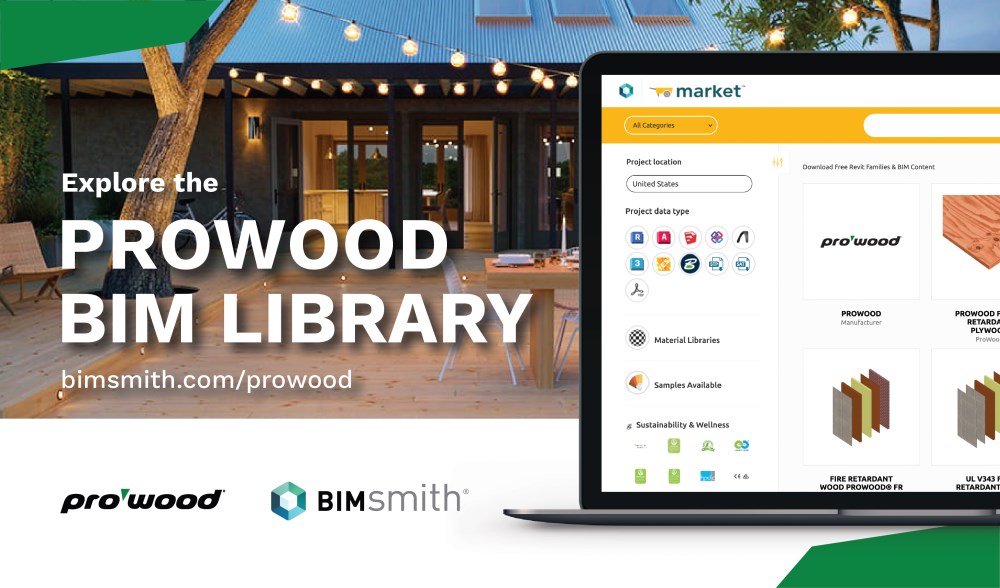 CHICAGO, IL (January 27, 2023) – ProWood, a leading manufacturer and supplier of pressure-treated lumber and ProWood FR fire-retardant plywood, lumber, and wall assemblies, has announced a partnership with BIMsmith, the leading product research platform for building professionals, for the development of new Building Information Modeling (BIM) tools for architects, engineers, and other construction professionals.
The partnership includes a suite of new Building Information Modeling (BIM) product models for ProWood products. These data-rich digital models contain key data representing both geometric and aesthetic properties of each product, allowing for highly accurate early-stage design. Each model integrates seamlessly with Autodesk Revit, the leading BIM design software used by building professionals globally.
The partnership also places ProWood products and solutions, such as their ProWood FR V343 2-hour fire-retardant wall assembly, in front of a global audience of building design professionals on BIMsmith Market, the leading cloud platform used by architects and engineers to conduct building product research.
"ProWood is committed to going the extra mile with architects and designers to help them design safe, code-compliant structures using trusted fire-retardant wood solutions," said Jase DeBoer, Senior Manager of B.A.S.E. Development at UFP Retail Solutions. "Our BIM content on BIMsmith makes it easier than ever for building professionals to choose ProWood for their BIM projects."
"Throughout the specification process, architects are constantly in search of quality materials that they know will look incredible both now and long into the future," said Benjamin Glunz, CEO at BIMsmith. "On behalf of the entire BIMsmith community of architects, we're excited to welcome ProWood to the platform."
Learn more about ProWood FR fire retardant wood and view the new ProWood BIM Library at bimsmith.com/ProWood.
About ProWood
For projects built to last, homeowners and professionals alike choose ProWood treated lumber. From pressure-treated color-treated pine using environmentally preferred MCA (micronized copper azole) preservative to ProWood FR fire retardant plywood, lumber and wall assembles, ProWood offers a wide range of products and treatments options for residential, multi-family, and commercial applications. All backed with industry-leading warranties. Never Settle. Learn more about ProWood at https://www.ProWoodlumber.com
About BIMsmith
BIMsmith®, the leading cloud-based building product discovery and selection platform, cultivates global business-to-business relationships between building industry professionals and building product manufacturers. Through direct integration of real product data into the BIM workflow, BIMsmith continues to shape the future of building science technology, placing its clients at the forefront of BIM innovation while addressing the true needs of industry professionals. Learn more about BIMsmith at www.bimsmith.com.