BIMsmith Announces Seamless Integration of BIMsmith Content with e-SPECS for Revit
BIMsmith Announces Seamless Integration of BIMsmith Content with e-SPECS for Revit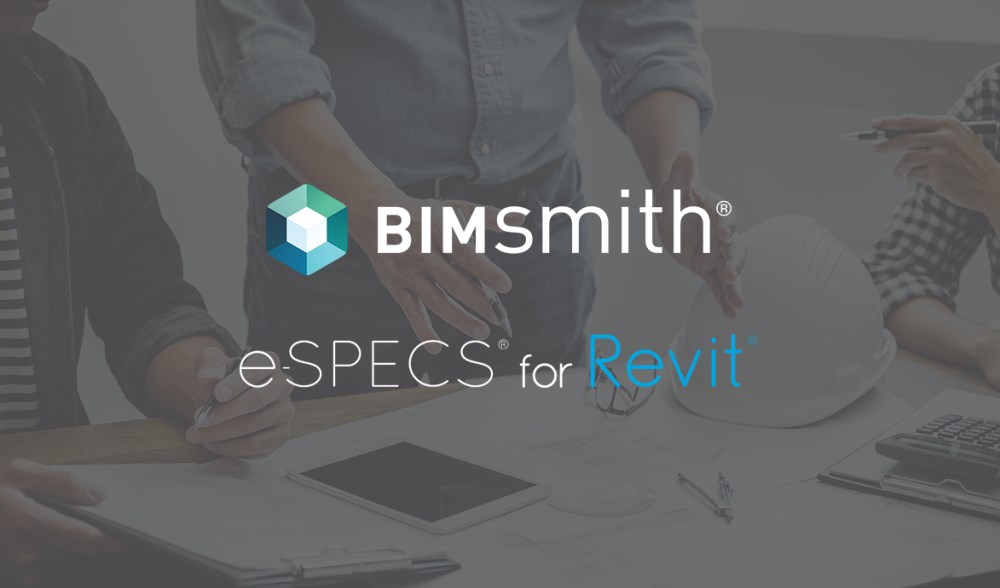 CHICAGO, IL (March 2, 2021) – BIMsmith, the leading cloud platform for building product research, today announced the completion of a new integration between BIMsmith and e-SPECS for Revit that will facilitate the seamless coordination of BIM and product specifications for building professionals.
With the new integration, all Masterspec-enabled Revit content provided through BIMsmith will now include e-SPECS metadata. This allows firms using e-SPECS software to download Masterspec-enabled Revit content from BIMsmith at any point in the future without the need to update the corresponding metadata to integrate with e-SPECS. The result is a seamless connection between BIM and specification workflows to improve efficiency for building professionals.
The integration is a result of the ongoing partnership between BIMsmith and Deltek, the leading global provider of software solutions for project-based businesses and developers of AIA MasterSpec and e-SPECS for Revit.
"Closing the gap between product discovery and specification has been the focus of our partnership with Deltek from day one," said Benjamin Glunz, CEO of BIMsmith. "This is a true achievement of our collaboration, and one that represents a major win for AEC professionals."
"Deltek continually works to provide AEC software solutions to increase efficiency and accuracy of construction specifications," said Gilles Letourneau, AIA, CSI – Sr. Director of Product Management at Deltek. "By leveraging the Revit content integration through BIMsmith with Deltek's e-SPECS for Revit, AECs will reduce requests for information (RFI) and change orders to improve overall project outcomes."
Learn more about BIMsmith and download Revit content structured for e-SPECS at www.bimsmith.com. Learn more about e-SPECS for Revit at www.deltek.com.
About BIMsmith
BIMsmith®, the leading cloud-based building product discovery and selection platform, cultivates global business-to-business relationships between building industry professionals and building product manufacturers. Through direct integration of real product data into the BIM workflow, BIMsmith continues to shape the future of building science technology, placing its clients at the forefront of BIM innovation while addressing the true needs of industry professionals.
Learn more about BIMsmith at www.bimsmith.com or call (224) 505-4BIM to add your products to the BIMsmith lineup.