Panasonic Expands Reach into Architectural Community with BIMsmith Partnership
Panasonic Expands Reach into Architectural Community with BIMsmith Partnership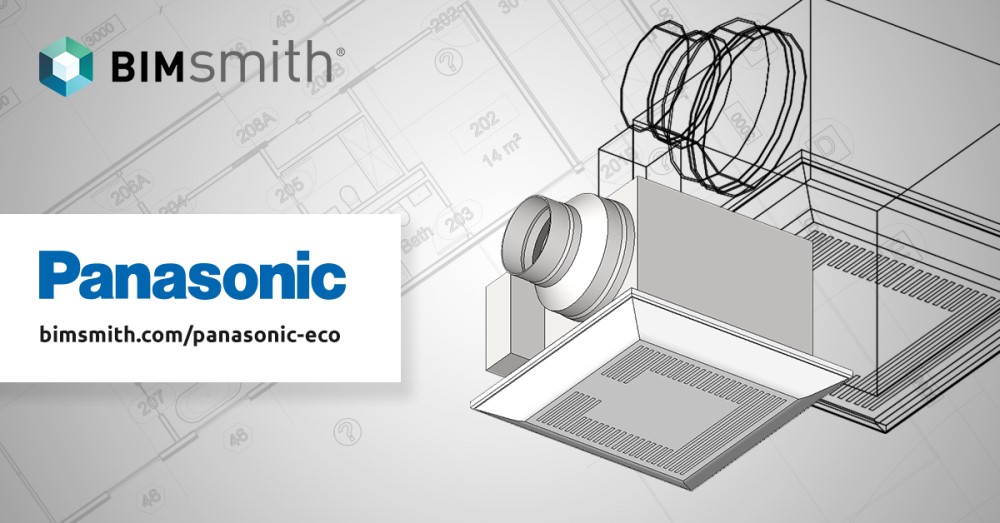 (Newark, NJ – January 29, 2019) Panasonic Eco Solutions North America, a leading provider of powerful ventilation & indoor air quality solutions, today announced a partnership with BIMsmith, the leading cloud platform for building product research and selection, to further expand the reach of its leading Indoor Air Quality Division into the architecture, engineering, and construction market.
The partnership focuses on the integration of Panasonic's 3D product models, or Building Information Modeling (BIM) content, across the entire BIMsmith platform. Designed and operated by a team of former architects, BIMsmith provides architects and other building professionals with powerful tools to help them research, compare, and download technical information for all types of building products for free. With the addition of Panasonic's Ventilation and Indoor Air Quality Solutions, all registered users throughout BIMsmith's global audience of architecture and construction professionals will be able to integrate Panasonic products into their projects.
"BIM plays a pivotal role in a quickly innovating construction industry," said Patricia Monks, National Marketing Manager at Panasonic Eco Solutions North America. "Our partnership with BIMsmith allows us to provide access to Panasonic's product data to a greater audience of architects and building professionals than ever before."
"Panasonic is recognized throughout the industry for its high-performance ventilation and air quality solutions," said Benjamin Glunz, CEO of BIMsmith. "We are thrilled to welcome them to the BIMsmith platform."
To view and download Panasonic BIM content, visit the Panasonic BIM Library at https://na.panasonic.com/us/bim-library or on BIMsmith Market at bimsmith.com/Panasonic-eco.
For more information about Panasonic ventilation fans, please visit reinventingventing.com.
About Panasonic Eco Solutions North America
Panasonic Eco Solutions North America is a division of Newark, NJ-based Panasonic Corporation of North America, a leading technology partner and integrator to businesses, government agencies and consumers across the region. The company is the principal North American subsidiary of Osaka, Japan-based Panasonic Corporation and the hub of Panasonic's U.S. branding, marketing, sales, service and R&D operations. Panasonic was featured in Fortune Magazine's 2016 ranking of 50 companies that are changing the world and doing well by doing good. Specifically cited were its smart and sustainable technologies, including its contributions to smart cities and the electric vehicle revolution. Learn more about Panasonic at http://www.panasonic.com/business/pesna/eco-construction-solutions/.
About BIMsmith
BIMsmith®, the leading cloud-based building product discovery and selection platform, cultivates global business-to-business relationships between building industry professionals and building product manufacturers. Through direct integration of real product data into the BIM workflow, BIMsmith continues to shape the future of building science technology, placing its clients at the forefront of BIM innovation while addressing the true needs of industry professionals. Learn more about BIMsmith at www.bimsmith.com.