BIMsmith and e-SPECS Now Integrated Through BIM to Spec Partnership
BIMsmith and e-SPECS Now Integrated Through BIM to Spec Partnership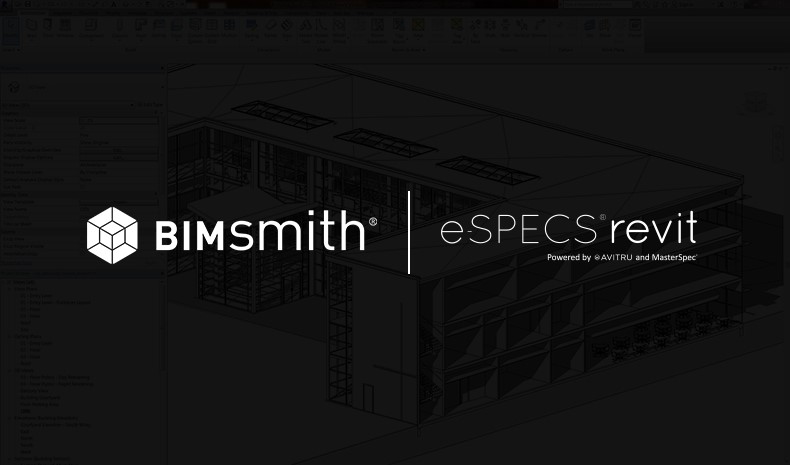 LAS VEGAS, Nov. 15, 2018 /PRNewswire/ -- AVITRU, the developer of AIA MasterSpecⓇ, and BIMsmithⓇ, the leading research-based BIM platform, announced the next milestone in the evolution of AECO content by delivering coordinated BIM and specification content through their respective platforms.
As of today, selected building product manufacturers who use BIMsmith and MasterSpec for their BIM and specification content fulfillment will have their content on each platform "e-SPECS Enabled" or "MasterSpec Enabled." In either case, this means that BIM content on BIMsmith Market will automatically populate specification information when used in a Revit instance running the e-SPECS for Revit app and MasterSpec or Product MasterSpec content.
"Connecting specification and BIM content isn't a new idea, but it's typically been an effort only pursued by large AEC firms," said Jim Contardi, Chief Executive Officer of AVITRU. "This is the first time that a Revit user can download and use high quality Revit content that is linked to MasterSpec content without having to worry about compromising their project or personal information, and be guaranteed data interperability."
This functionality is enabled by Avitru and BIMsmith making a commitment to build out data interoperability between the content on each platform, and working on a common protocol.
"This is a small, yet tremendously important step in the evolution of digital specification," said Benjamin Glunz, Assoc. AIA, CEO of BIMsmith. "Coordinating data sets for BIM and 3-Part Specifications will save time, reduce errors and will ultimately lead to a better building. BIMsmith is proud to collaborate with Avitru to lead the charge in this important endeavor."
BIMsmith and Avitru will be exhibiting together at Autodesk University in Las Vegas, Nevada on 13-15 November at Booth A351/A353.
About Avitru
From conception to construction, AVITRU empowers architects, engineers, contractors and owners to make better, faster decisions. As the developer of AIA MasterSpec®, Avitru has leveraged its position in the market to enable the collaborative exchange of expert knowledge to design, build, and operate a better built environment. The Avitru team is committed to constructing a world where better building leads to better lives. Previously known as ARCOM LLC, Avitru LLC is a portfolio company of Alpine Investors.
Learn more at www.avitru.com.
About BIMsmith
BIMsmith®, the leading cloud-based building product discovery and selection platform, cultivates global business-to-business relationships between building industry professionals and building product manufacturers. Through direct integration of real product data into the BIM workflow, BIMsmith continues to shape the future of building science technology, placing its clients at the forefront of BIM innovation while addressing the true needs of industry professionals.
Learn more about BIMsmith at www.bimsmith.com or call (224) 505-4BIM to add your products to the BIMsmith lineup.