Metalumen Expands Commitment to Architecture and Design Community Through BIMsmith Partnership
Metalumen Expands Commitment to Architecture and Design Community Through BIMsmith Partnership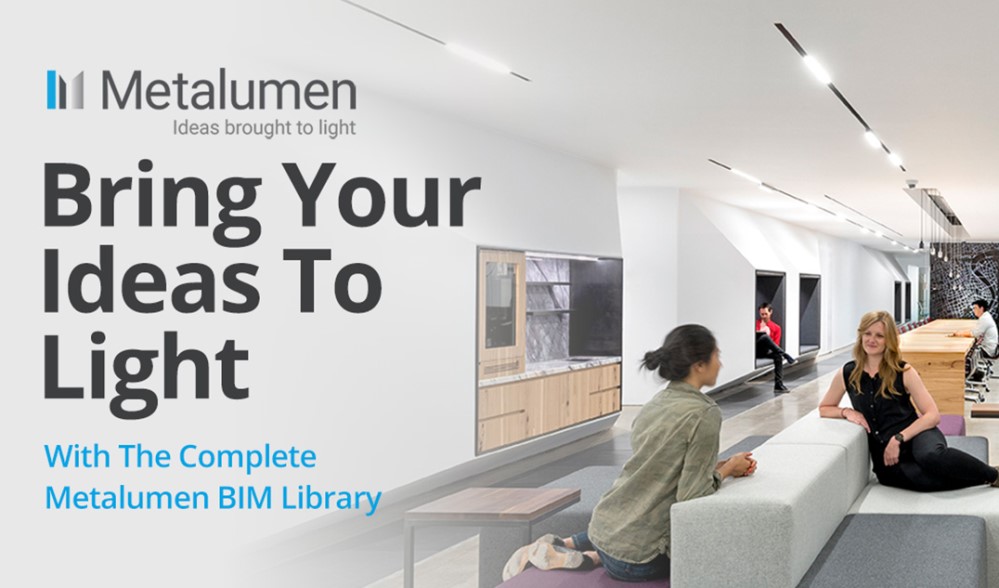 Metalumen Manufacturing, Inc., a major North American manufacturer of premium lighting solutions, has partnered with BIMsmith, a leading online platform for building professionals, to provide digital Building Information Modeling (BIM) content for its lighting solutions to thousands of architects and designers.
Metalumen serves a variety of markets, including commercial, education, healthcare, and transportation. By partnering with BIMsmith to extend its reach into the architecture and design community, Metalumen helps ensure that digital models of its products are accessible to professionals from all industries and for any application.
As part of the partnership, Metalumen digital models are now available on BIMsmith Market, a free online platform for architects and designers to discover and download building product data. Adding its products to BIMsmith Market eliminates the need for a designer to leave his or her ordinary workflow to find BIM content for Metalumen products. Now users can download Metalumen product models, including cut sheets, specifications, and other product data, with just a few clicks, simplifying a multistep process down into one. All Metalumen product models are compatible with the industry standard in building design software, Autodesk Revit.
"Design is at the core of Metalumen; the focus on how lighting transforms the architectural environment," said Monika Lojek, Marketing Manager for Metalumen Manufacturing, Inc. "Working with architects and designers to make designing with Metalumen easier is a natural fit for us."
"The right choice of lighting has the power to completely change the end result of a project," said Benjamin Glunz, CEO of BIMsmith. "We are excited to provide the BIMsmith architectural community with lighting solutions from a brand as esteemed as Metalumen."
The Metalumen BIM Library can be found on BIMsmith Market at www.bimsmith.com/metalumen.
About Metalumen
Lighting is a true passion for Metalumen. Family owned and operated, Metalumen has been designing, engineering and manufacturing lighting solutions since its inception in 1977. We pride ourselves on understanding the art and science or 'craftsmanship' of luminaire design and carefully consider the architectural environment to ensure we develop the right lighting solution. Design is the architectural interface of the luminaire; we craft our products to reflect classic design, as well as innovative trends. We marry function with design, capturing the desire of the specifier or architect while understanding the needs of the end user. Our fixtures make a statement within your space. Learn more about Metalumen at www.metalumen.com.
About BIMsmith
BIMsmith®, the leading cloud-based building product discovery and selection platform, cultivates global business-to-business relationships between building industry professionals and building product manufacturers. Through direct integration of real product data into the BIM workflow, BIMsmith continues to shape the future of building science technology, placing its clients at the forefront of BIM innovation while addressing the true needs of industry professionals. Learn more about BIMsmith at www.bimsmith.com.