Phillips Manufacturing Partners with BIMsmith to Provide BIM Tools for Building Professionals
Phillips Manufacturing Partners with BIMsmith to Provide BIM Tools for Building Professionals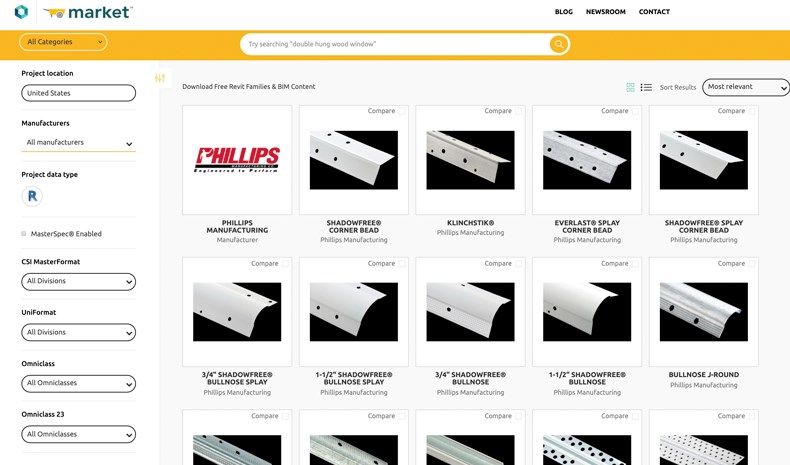 Omaha, NE (March 10, 2020) – Phillips Manufacturing, a leading producer of drywall finishing accessories, lath, stucco accessories, metal channels, interior framing and fire-rated assemblies, has partnered with BIMsmith, the leading product research platform for the construction industry, to provide a suite of Building Information Modeling (BIM) tools for building professionals.
The partnership involves the creation of information-rich digital models for Phillips' products that integrate with the leading architectural design software, Autodesk Revit. These models make it easy for building professionals like architects and contractors to include Phillips products in their digital building designs, streamlining their workflow and providing valuable information throughout design and construction.
The partnership also makes Phillips products available to building professionals around the world via BIMsmith®, the leading product research platform where professionals can search, compare, and download product data to include in their BIM projects.
"For more than 65 years, Phillips has grown alongside the building professionals we serve," said Kyle Kubat, Vice President of Sales and Marketing at Phillips Manufacturing. "Our investment in BIM for each of our growing product lines marks yet another way that Phillips strives to help our customers be successful every day."
"The Phillips name bears a strong reputation after decades of excellence and reliability in the building industry," said CEO Benjamin Glunz. "We're pleased to welcome them to the BIMsmith platform."
To learn more about Phillips Manufacturing or to browse the Phillips BIM Library, visit www.phillipsmfg.com/bim-revit-library.
About Phillips Manufacturing
Phillips is the one-stop shop for drywall finishing accessories, lath, stucco accessories, metal channels, interior framing and fire rated assemblies with facilities around the country. Phillips Manufacturing has been proudly manufacturing in the USA since 1955. Learn more about Phillips at www.phillipsmfg.com.
About BIMsmith
BIMsmith®, the leading cloud-based building product discovery and selection platform, cultivates global business-to-business relationships between building industry professionals and building product manufacturers. Through direct integration of real product data into the BIM workflow, BIMsmith continues to shape the future of building science technology, placing its clients at the forefront of BIM innovation while addressing the true needs of industry professionals. Learn more about BIMsmith at www.bimsmith.com.